If you find yourself wondering what glue you can use for false eyelashes, and even whether there are any alternatives, this article is for you.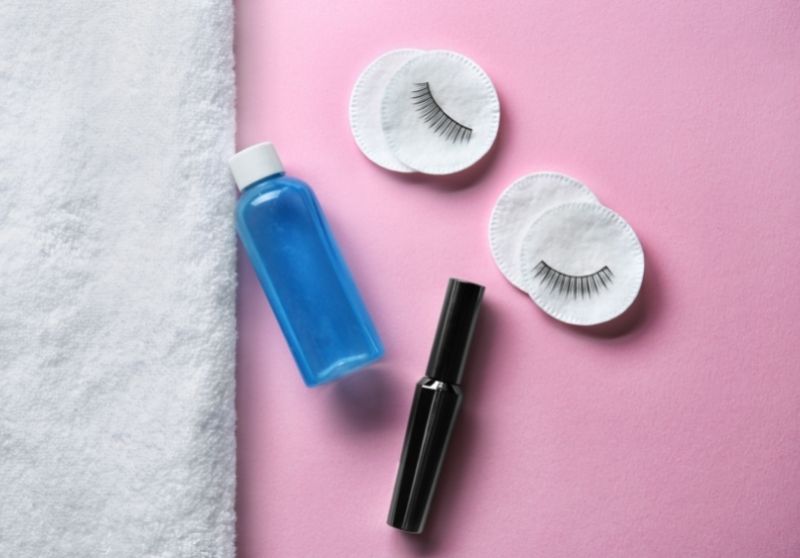 The best eyelash glue comes in either a dark or clear formula, and will have a brush applicator for precise application. You can also use alternatives like magnetic eyelashes or you can opt to tint your lashes.
This post contains affiliate links and we may earn if you click on them (at no extra cost to you). Please read our full disclosure policy here.
What Is Eyelash Glue?
Eyelash glue is exactly what it sounds like. It's the adhesive that you can use to attach false eyelashes to your natural lashes, adding a touch of drama, volume, and length to your look.
Not all eyelash glues are the same, but they will tend to have the same active ingredient in them. 
It's called cyanoacrylate, and is a fast-drying glue-like chemical bonding agent. 
This is what gives the glue its glue-like stickiness, and ensures that your lashes properly stick to the eyelid to which you're attaching them.
It's worth investigating what eyelash glue works best for you as not bonding glue can cause damage if not used properly.
You should also always patch test prior to using any lash glue so that you know you're not going to risk either irritation or infection. 
Your eyes and the skin around them are incredibly delicate, so it's just not worth taking a risk with them.
That's also why it's best to stick to professionally-made eyelash glue. 
Some beauty blogs have recipes for homemade glue that contain ingredients like honey or PVA glue.
But PVA glue is the typical white glue that you'd find in the craft aisle of a store – it does not belong anywhere near your eyes! 
So, we don't recommend using any at-home recipes for eyelash glue.
The 5 Best Eyelash Glues To Buy
Eyelash glue comes in different consistencies and with different applicators. The eyelash glue that best works for you will depend on your skill level. 
You can use a squeeze tube or a brush-on formula, depending on your preference.
This is a Korean lash glue, and it comes in both dark and clear formulas. It's both latex and formaldehyde-free, is hypoallergenic, and contains vitamins A, C, and E. 
We're a fan of the brush-on applicator, which makes it great for beginner and experienced eyelash wearers alike. 
---
Both formaldehyde and latex-free, this eyelash glue is made in the US and has a super long-lasting adhesive effect. 
The applicator is a thin brush, making precise application of your lashes easier, and contains aloe for a soothing, calming effect. We'd recommend this eyelash glue for beginners in particular.
---
This is a dark eyelash glue and is super affordable. It's also water-resistant – so even if you cry on application it doesn't matter – and is easy to use. 
It's consistently ranked amongst the best eyelash glues, as it's uncomplicated but still effective. Note that it does contain latex.
---
Industry insiders love this eyelash glue, particularly for those with sensitive eyes. It comes in both dark and clear formulas and is easy to apply thanks to its precision wand. 
It's also vegan and cruelty-free, as well as waterproof.
---
This eyelash glue is waterproof with a 24-hour hold. It is a clear formula that's free of both formaldehyde and latex and is hypoallergenic to boot. 
The applicator is a brush, so is precise and easy to use, and works well with most lashes.
---
Are Eyelash Glues Safe?
Many people are prone to allergic reactions or are sensitive to particular chemicals. Most eyelash glues – even those used in professional salons – will contain cyanoacrylate. 
If you're prone to irritation and infection, using a product with this toxin in it might not be the best idea. 
Eyelash glues can often contain other harmful or toxic chemicals too, such as lead, formaldehyde, or benzoic acid. 
It's really important that you consult with an eye technician prior to application (if you're getting in extensions), or that you double-check with a dermatologist or make-up artist that other glue types are okay for you.
As we mentioned above, although some beauty blogs do have recipes for homemade eyelash glue, we wouldn't recommend using this. 
They tend to recommend using PVA (white) glue as the main adhesive, and this is not safe for using around your eyes. 
Any kind of leakage could cause an allergic reaction and loss of sight.
Thankfully, there are alternatives to eyelash glue that are safe to use.
6 Best Alternatives To Eyelash Glue
1. Magnetic eyelashes
Magnetic eyelashes, as the name suggests, have small magnets in them. These are designed to help the lashes adhere to each other. 
Magnetic eyelashes are designed to slot in alongside your natural lashes, providing a natural-looking effect that's also completely mess-free. 
They don't require any kind of glue, either, but you still get to wear false lashes and look great.
2. Magnetic eyeliner
If you can't find magnetic eyelashes, we'd recommend using magnetic eyeliner. 
You apply it as you would any other eyeliner, taking care to sweep it across your lash line. 
You then place a magnetic lash to the liner, and they attract together so that the lash sits on your lash line, just like any other false lash. 
The major benefit is that, like magnetic eyelashes above, it's mess-free and doesn't require any glue.
3. Self-adhesive eyelashes
Self-adhesive eyelashes are a great alternative to false eyelashes that require glue. 
Self-adhesive eyelashes will typically come with a strip of glue already attached to them. 
You then gently line this up with your natural lash line and stick the adhesive to your eyelid. 
It can be a little fiddly to get it lined up correctly, but once they're on, you don't have to worry about them until you peel them off when you're done wearing them.
4. Mascara and eyeliner
If none of the above sounds appealing to you, and you can't bear the idea of fiddling around with glue, then it's time to use volumizing mascara and eyeliner. 
It's worth spending more on volumizing mascara, as cheaper products will tend to just result in clumping, which you want to avoid. 
Practice also makes perfect for achieving the perfect liquid line.
5. Eyelash extensions
If you want the drama of false eyelashes, but can't get on with the glue, then it may be time to see a technician. 
They will apply false eyelashes according to your preference (for example, whether you're after length, curl, or volume), and will do so safely.
It's likely to be the most expensive option, but also means that you don't have to mess around with glue.
6. Lash tint
Getting your lashes tinted is another great way of getting the appearance of false eyelashes without needing glue. 
You'll see a technician who will dye your natural lashes to make them appear darker and fuller. 
You can also do this at home with henna, but be sure that you patch test and follow the correct procedure. 
This means you'll have darker more dramatic lashes, and you don't have to wake up every morning and apply make-up.
Related Questions
Does Glue Damage Eyelashes?
Provided that you use safe, latex-free, and quality-approved eyelash glue, then you should not experience any damage when using it. 
You should follow all advice regarding the length of time that it's safe to wear any eyelash glue. Otherwise, you might run the risk of some damage and irritation.
Can You Use Nail Glue For Eyelashes?
Do not use nail glue for eyelashes. Nail glue is intended for your nails, not your eyes. As such, it might cause serious damage – from irritation through to blindness – if used on your lashes.
Lash glue is deliberately made to be safe around your eyes, eyelids, and natural lashes. Nail glue is not. 
It's also very tacky in nature and can be hard to remove. 
Getting it off the skin around your eyes could be seriously painful, so you absolutely should not use it as an eyelash glue alternative.
Can You Use A Glue Stick For Fake Eyelashes?
A glue stick will typically be made of PVA or white glue. PVA glue is used in a variety of industries, from craft through to carpentry.
It is therefore not safe for use around your eyes or on your lashes.
Can You Use Lace Glue For Eyelashes?
Lace glue is typically used on extensions, wigs, and weaves. It is therefore not formulated for use around your eyes, and you should not use it for your lashes.
It can contain some toxins that are damaging to eyes and might cause serious damage.
Difference Between Dark And White Eyelash Glue
There's minimal difference between black and white eyelash glue.
However, if you've not used eyelash glue that often, it's probably best to stick to black glue, as it will be less visible on your eyelids if you use too much, compared to clear or white glue, which will show up significantly more.
Disclaimer: This site is not intended to provide professional or medical advice. All of the content on Bodycarevault.com is for informational purposes only. All advice should be followed at your own discretion. Ingredients may change at any time so always check the product label before using. Check our full disclaimer policy here.